We recognize the importance of creating menu options that satisfy diverse tastes and we are proud to offer extensive selections that incorporate fresh, wholesome ingredients. We never shy away from the opportunity to create selections based on our clients' favorite foods or delicacies. From gourmet meals and authentic ethnic cuisines to gluten-free selections and vegetarian options, Culinary Associates can offer its clients a variety of food specialties.
Better Foods. Fresher Tastes.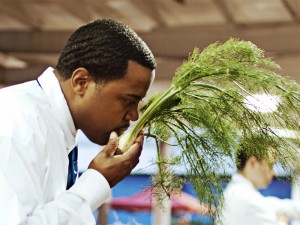 Our
menu options
offer an assortment of fresh, flavorful, and locally-sourced foods; many of our ingredients are hand-picked by Head Chef and Owner,
Frankie Brooks
, who brings more than 25 years of culinary expertise to the table. With a team of top-notch chefs, professional bartenders, wait staff, and clean-up crew, Culinary Associates is prepared and capable to impress the most distinguished guests, distinct palates, and discerning tastes. You'll be amazed by our quality of culinary preparation, presentation and most of all taste! Culinary Associates has built lasting relationships with local farmers and markets so that we can prepare our foods with the finest, seasonal ingredients. From appetizers to desserts, you can rest assured that Culinary Associates will turn these high-quality ingredients into sensational dishes that entice your guests' palates and satisfy their appetites.
---
Local Sourced
Culinary Associates frequently selects products and ingredients that are harvested in our community and throughout the region.
Seasonal
Our menu selections are carefully created, making sure our clients can enjoy foods at their seasonal peak
Fresh
Great taste requires fresh ingredients. We are committed to quality and guarantee every dish will be delicious
---
Take some time to browse our catering menus; if your mouth starts watering, don't worry, it's just a side effect. Bon apetite!